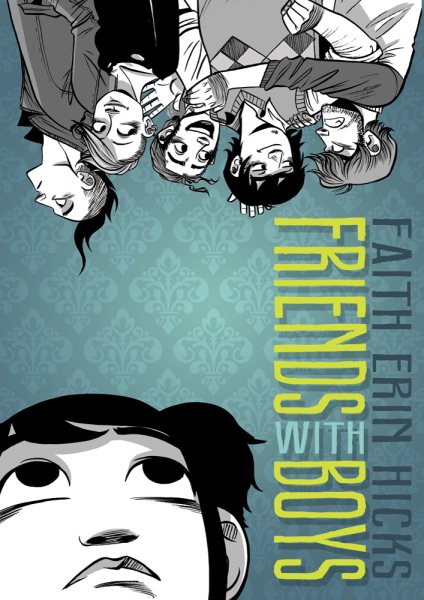 As I work on recataloging and reorganizing my library, I am finding so many great books that I never reviewed when they came out. I guess it's because I find it harder to review the really good books, the ones that I personally love. Ultimately, it's a subjective thing - something I find wonderful and funny and sweet and just perfect, others will say "meh" to. I've gotten pretty good at figuring out what books kids will like and what graphic novels teens will read at my library (not many) but it's still hard to be objective about reviewing a book from a collection development standpoint when you just LOVE IT SO HARD.
Maggie is not nervous about her first day at high school. Sure, she's never been to school before, or had real friends. Her mom is gone, her dad is changing to fit the image for police chief, and, well, she's NOT nervous. After all, she has her three older brothers to keep an eye on her. But she quickly discovers that high school is nothing like she expected and her brothers have changed without her even knowing it. They have lives and interests she can't share in and she feels lost and alone. Then she meets up with a punk girl named Lucy who's totally unlike anything she's known before, discovers she's possibly haunted by a ghost, and learns that while change may be hard, it comes to everyone.
If you've been following Faith Erin Hicks' work, you can see how her artwork has matured and improved over her last books. To me, this is her best work in terms of emotional depth. She brings out the complexity of the characters not just in the script but in the art, showing them serious, scared, angry, hurt and worried. Maggie has so many emotions as she steps out into a new world and starts growing up and realizing how she doesn't really know the people she's known all her life.
Verdict: This is like...Raina Telgemeier for teens. It's fascinating how the author can talk about bullying, social conformity, and just high school in general without stereotyping or falling into cliches. Not every plot point is resolved by the end of the book, including both the ghost story and Maggie's conflicted feelings over her mom leaving, but she and her new friends have a chance for a new start and a new friendship together. A must-have for your teen graphic novel collection.
ISBN: 9781596435568; Published 2012 by First Second; Purchased for the library and my personal library