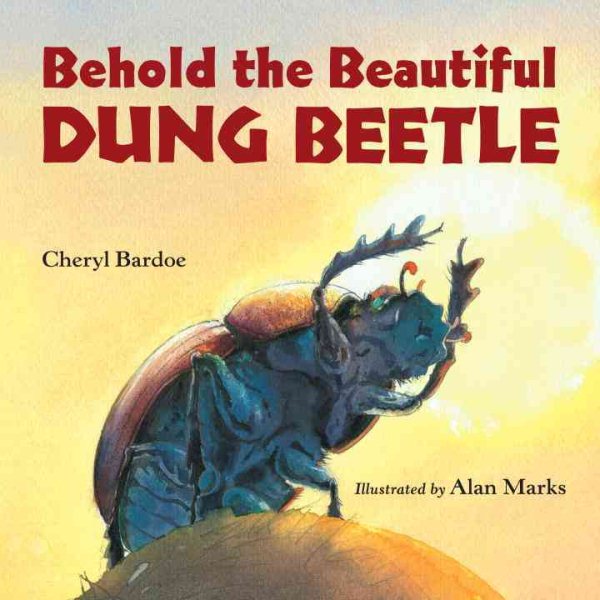 Of course, everyone's first response to this is going to be "ewwwww!" but if you can get past that, it's a beautifully written and illustrated book, just perfect for sharing with preschool and kindergarteners.
The text explains the three different types of dung beetles; dwellers, rollers, and tunnelers. It describes their physical makeup and habitats and how each of the different types uses dung as food, shelter, and to propagate their species. It also briefly references their place in Egyptian mythology and their importance to ecology. Back matter includes additional information and facts about dung beetles, a glossary, and bibliography.
My general preference for easy, read-aloud nonfiction is photographs, but I have to admit these illustrations are pretty good. They're done in watercolor and pencil so you don't get a really close-up, detailed look at the beetles and dung, but a nice overall impression, especially of their colors and habitat.
The book is laid out in my favorite format for read-aloud nonfiction - short, bold sentences, coupled with longer paragraphs of text in a smaller font. This makes the title ideal for reading aloud in storytime or for a beginning reader to tackle, with additional information to discuss and read with older kids.
Verdict: This is a well-written look at a neglected but fascinating beetle and a story that will be of interest in storytime to both children and adults. Get over any squeamish feelings you might have and enjoy reading this aloud as kids learn not only about the dung beetle, but about how every creature has a role to play. Highly recommended.
ISBN: 9781580895545; Published 2014 by Charlesbridge; Purchased for the library