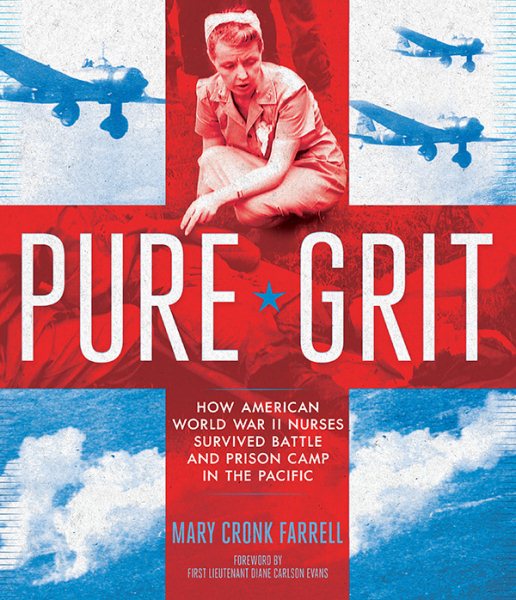 Every time I see yet another book about standard historical fare - usually all featuring white males - I wonder, "Aren't there ANY other stories to tell?" Turns out, of course, there are. This is the true story of the nurses who were stationed in the Philippines. From a peaceful life in the tropics, treating a few tropical diseases and family illnesses, they were thrown into combat nursing with little to no experience. They retreated with the military and were then taken prisoners of war where they suffered disease and starvation for three years as they struggled to care for the civilians and military. After their rescue, they suffered from physical and emotional effects - compounded by a military that didn't recognize their service and a country that didn't understand, or want to know, what they had done.
The book includes a forward by an Army Nurse Corps veteran of Vietnam and copious documentation including a glossary, list of the nurses who served, timeline, detailed endnotes, bibliography (both print and online), acknowledgements, photo credits, and index. The main text includes many photographs and original documents.
Sometimes books about overlooked people and events in history can be difficult to promote. There's more speculation than information or there isn't the cultural context of heroism/adventure/excitement especially to war stories. While I'd like kids to read a more balanced selection of war history books, realistically that's rarely what they're looking for. This book, however, not only educates on a little-known group - nurses in World War II and how they were overlooked in history - but also includes enough adventure, excitement, and heroism for any war story aficionado.
My only reluctance in purchasing this is that it really is aimed at a middle school and up audience. While there aren't really any truly atrocious or horrible stories, it is honest in describing the privation, illnesses, and peripheral horrors of war. There are also references to how newspapers and civilians treated the nurses when they returned, assuming they had been raped, as well as their own fears and expectations when they were captured. The thing is, teen nonfiction at my library really doesn't circulate well at all. I don't know if it's because we have such strong school libraries and the kids are looking more for popular fiction or if they're just not as into nonfiction at this age. Happily, we have recently moved the teen area downstairs next to the children's area which means that I can buy things for teen and then recommend them to kids. So it's not like I'm recommending inappropriate books because they're clearly labeled TEEN but they're right there so...yeah.
Verdict: I'm going to get this because it is so well-written and an important topic and also, I think, has enough popular appeal to make it worth adding to the collection, even in the dusty shelf of teen nonfiction. Highly recommended.
ISBN: 9781419710285; Published 2014 by Abrams; Borrowed from another library in my consortium; Purchased for the library