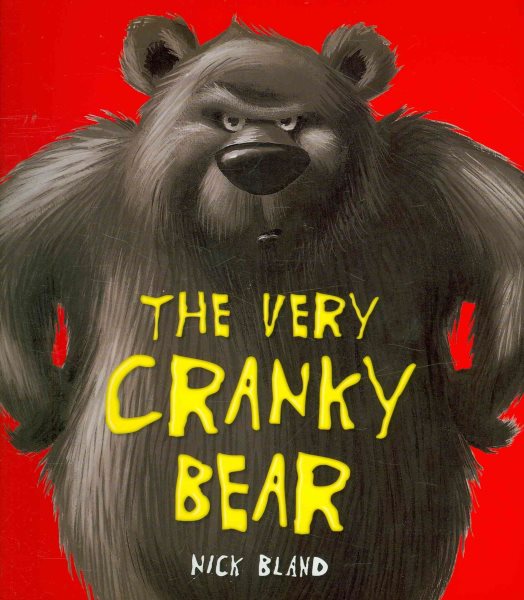 I usually need a bit more substance in a picture book than cuteness for a full-length review here, but this book was so funny that I felt it deserved a spotlight.
In the Jingle Jangle Jungle, Moose, Lion, Zebra and Sheep find a great cave to hang out in on a cold, rainy day. Yes, there's a sheep in the jungle. Also a moose. They're playing cards, possibly a little poker judging by the sly grins on their faces, when they realize they're not alone...the cave actually belongs to a BEAR and he's quite unhappy about this noisy group of card-players. So out they go into the rain, leaving their cards behind. The animals decide that what cheers them up; stripes, antlers, and a mane, will surely cheer up the bear. Nope. But it sure does make him look silly! But with some extra information from Bear, Sheep realizes what's needed - a nice, fluffy pillow. Luckily, she's got just the thing.
If you've never encountered Nick Bland's illustrations before, you should know that he is the king of British cute. His animals are roly-poly, slick and colorful, little bundles of adorableness. Even the cranky bear is adorably cranky.
Verdict: There's a nice bounce to the rhyming text and this will definitely be a hit with toddlers and preschoolers, who will wait with bated breath to find out what's in the cave and roar with laughter when the animals deck bear out in their best attributes. Recommended.
ISBN: 9780545612692; US edition published July 2014 by Orchard; Borrowed from another library in my consortium; Added to the library's order list