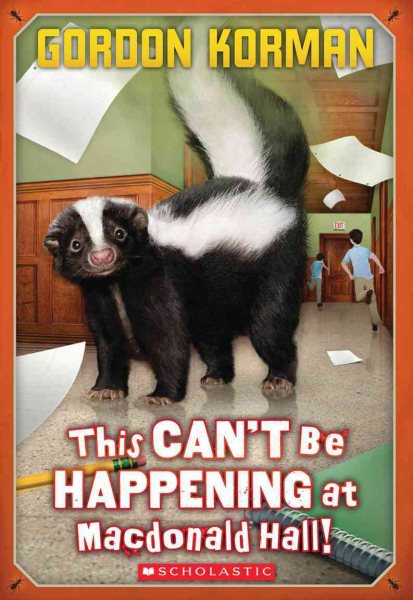 This was Gordon Korman's first book, written in seventh grade. For a book written in the 70s by a twelve-year-old, it's stood up amazingly well. It's still funny and shows the knack Korman has for really getting how kids think and act - or even how they
want
to think and act, which isn't always the same thing! It was recently released in paperback with a new cover, which I promptly snatched up for my library, but I own an older (and very tattered) ex-library copy from my childhood library.
Bruno has the ideas and Boots carries them out. Together, they take the punishments doled out by their strict but fair boarding school headmaster, Mr. Sturgeon (aka The Fish). Then there's the excitement to be had from the neighboring Miss Scrimmages's Finishing School (although even Bruno has to admit that the young ladies play a little rough). But this time it's different. The Fish is putting his foot down and they are being....SEPARATED. Hapless Bruno is sent off to room with the king of the nerds, Elmer Drimsdale, and horrified Boots is exiled to share space with hypochondriac rich kid George Wexford-Smyth III. This means war! Who will win, Bruno and Boots or Mr. Fish?
Verdict: No matter how many times I read this, the wacky antics and the innocent mischief of the kids never fails to make me laugh. I also simply adore the tough female characters who take no argument when doing their own thing. There's no delving into the inner life of a child, reflections on the meaning of growing up, or serious discussion of friendships and school life. It's just fun, plain and simple. Hand this to reluctant readers and anyone who wants a good laugh.
ISBN: 9780545289245; This reprint published 2011 by Scholastic; Purchased for the library