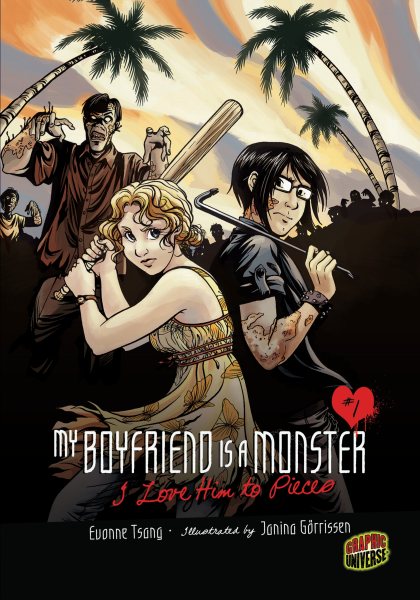 This is the book that started it all...back when it came out, Twilight was in full swing and it was a hilarious anti-romantic paranormal romance (at least, I thought it was). Graphic Universe went on to produce a whole series of these books, of varying quality both in art and plot, but this remains both my personal favorite and what most people seem to agree is the best story.
Dicey Bell is a stereotypical jock - if jocks were star baseball players, blond and bouncy and enthusiastic. Jack Chen is the stereotypical science nerd with a side of RPG, his parents are scientists and he pretty much has free run of the school labs. Nobody would have expected them to get together, but when they're assigned as lab partners they find they actually get along pretty well and are just started a little romance when ZOMBIE ATTACK. From there on out it's beating off zombies with baseball bats (Dicey) analyzing what the heck is going on (Jack) and trying their best to find a happy ending together.
Gorrissen's black and white art is serviceable, if not particularly unique. The characters are easily distinguishable (yes, this is a think I look for in art) the story is easy to follow, and there's lots of humorous details and gross zombies.
The real draw for this is the story. It's both a really funny, romantic, sweet story but also flips stereotypes. Dicey is a jock - she lives for baseball and is an enthusiastic extrovert. Jack is a nerd - he doesn't do anything but science and he's a complete introvert. They're both wary of each other at first, and Jack is especially prejudiced against what he thinks of as stupid jocks, but then Jack realizes that not only is Dicey really fun to be around - she's also in the honor society and super smart. Dicey, at first thinks Jack is a prejudiced geek, but is surprised when he apologizes after their initial tiff and realizes that he's, well, pretty cute! Once she breaks him out of his shell (heh, pun if you read the story) she finds out he's really fun to talk to and he takes the time to share her interests and respects her skills both on and off the baseball field. Also, although it's never pointed out, Jack is one of the very few (I think possibly the only, but I haven't read enough YA to be sure) male love interests who's actually Asian. Girls yes, boys not so much.
Verdict: Even if you don't buy the whole series, you should definitely own at least the first few titles. They're funny, sweet, and gently flip stereotypes without being didactic or overshadowing the actual story. They're also mostly appropriate for middle school as well as high school. Hand these to kids who like paranormal romance, and this one in particular to girls who are desperate for books about girls playing sports.
ISBN: 9780761370796; Published 2011 by Lerner/Graphic Universe; Purchased for the library and my personal library