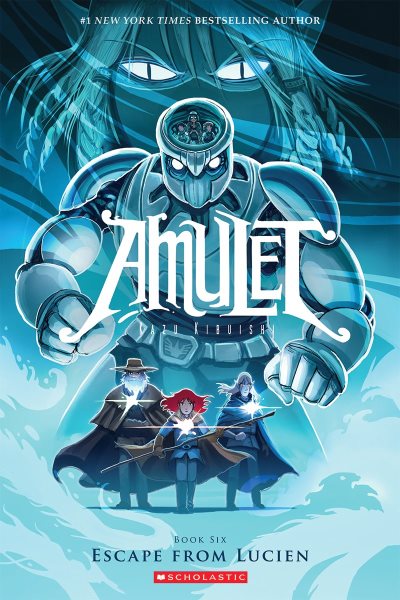 I don't know that this is a real genre anywhere except my head, but for kids who really like graphic novels like Kazu Kibuishi's Amulet series and Jeff Smith's Bone, it's a useful list of read-alikes.
Kazu Kibuishi's popular
Amulet
series begins with a pair of siblings entering a strange, fantastical world and gets more serious as the series continues with magic, prophecies, wars, etc. Kids love the combination of magic and adventure and the art is cinematic and stunning.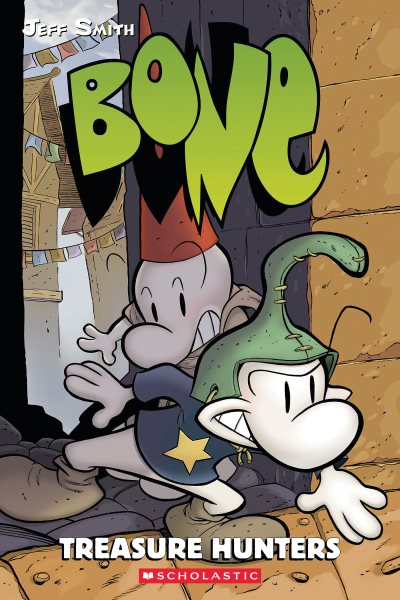 Jeff Smith's classic series
Bone
has been around for a long time and could be said to have catapulted the graphic novel format for middle grade readers to popularity. The original graphic novel series consists of 9 titles. There are also several companion volumes and an illustrated prose series called
Quest for the Spark
.
Bone
is basically the story of a collection of animated cartoon bone characters that go on a journey. Along the way they encounter various friends and enemies. It's shelved in either teen or juvenile and has adult fans as well. It does include more serious themes about friendship, truth, loyalty, etc. that a lot of younger kids will skim over in favor of the jokes and fantastical adventures. That's why re-reading books when you're older is fun! It has been challenged for a variety of ridiculous reasons, ranging from "I have no idea how to read graphic novels or books for that matter and so I am leaping to the conclusion that my children will follow the example of the villain" to "everything is an allegory and there must be something inappropriate in this because kids like it so much."
The Three Thieves
series by Scott Chantler is an award-winning Canadian webcomic that is published in the US by Kids Can Press. The story is set in a quasi-medieval fantasy world and features a young acrobat and sometimes thief and her companions who are on a quest to discover the secrets of her family and to find her missing brother. Along the way they run into corrupt politicians, dangerous knights, and other people with their own secrets. Not as many kids know about this series, but all those I've recommended it to have enjoyed it.
Rapunzel's Revenge
and
Calamity Jack
are written by Shannon Hale and illustrated by Nathan Hale (no relation). They are roughly based on fairy tale characters, but take them to a whole new dimension. They are set in the wild west but include Rapunzel using her hair as a lasso, dwarves, monsters, giants (he is Jack the Giant Killer) and a little bit of romance.
The Elsewhere Chronicles
by Bannister and Nykko are, I think, originally a French comic series. They introduce a group of friends who travel to a magical world that turns out to be more frightening than fantastic. They are a little harder sell because they are in a picture book format, but once you get kids into them they're fans.
The Courageous Princess
by Rod Espinosa is a classic trilogy of a strong and determined princess, dragons, music, adventure, and magic. It's recently been reprinted and a third volume added. It's more in the fairy tale vein, but classic fantasy that kids, both boys and girls, will enjoy.
A few more titles in this genre (or loosely connected to it)
Marvel adaptations of L. Frank Baum's Oz books by Eric Shanower and Skottie Young
A wordless trilogy called Korgi by Christian Slade
Giants Beware! by Jorge Aguirre is more comic and medieval fantasy than adventure, but still close. It now has a sequel.
The Golden Twine by Jo Rioux is very much in the fantasy adventure genre and has been quite popular, but only one title in the series has been released
The Lost Boy by Greg Ruth is a creepy, black and white tale of fantasy and loss.
Alabaster Shadows by Matt Gardner leans more towards horror and also includes a diverse cast of characters
Science Fiction Fantasy Adventure
A scifi epic series, Zita the Spacegirl by Ben Hatke
Red's Planet by Eddie Pittman is the start of a new scifi adventure series.
Mixing adventure, fantasy science fiction, and history, Cleopatra in Space by Mike Maihack