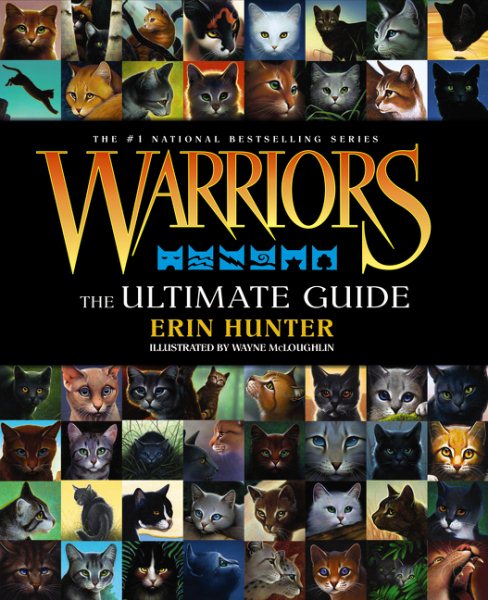 Popular animal fantasy series have come and gone, but Warriors remains forever. The key elements of this fantasy series seems to be animals, a complicated story with endless characters and groupings, and lots of adventure and drama. There's not a lot of requests for read-alikes, since you can pretty much read the Warriors until the end of time, but occasionally a really voracious reader will actually manage to make it through all of them and want something else similar.
The Warriors
Erin Hunter is actually a group of several writers, which explains why they are able to turn out so many books. I love blowing kids' minds with this information. There are multiple series within the Warriors series and they generally have six books in each arc. The series include:
The Warriors
New Prophecy
Omen of the Stars
Power of Three
Dawn of the clans
Vision of shadows (in progress)
There are also a number of stand-alone super editions, a slew of graphic novels (most of these are out of print and are stand-alones or trilogies) and various companion volumes.
The Seekers
Erin Hunter, while continuing to write the Warriors series, has also branched out into different animals. The Seekers features bears. There are currently two series complete;
Seekers
and
Seekers: Return to the Wild
. There are also a couple graphic novels (out of print).
The Survivors
Erin Hunter's newest series features dogs. The first series is complete and they are working on the second series,
Gathering Darkness.
The second big author who's really into the "epic quests with animals" is Kathryn Lasky. Being only one person, she's not as prolific as the six authors that comprise Erin Hunter. Her series are:
Guardians of Ga'Hoole
which features owls. There are 15 books, a prequel, and a movie, which had really poor reviews and passed rapidly into obscurity. More popular than the Guardians series is her
Wolves of the Beyond
which is complete with six books. Her newest series,
Horses of the Dawn
is in progress and doing quite well.
For readers looking for more fantasy in their epic animal quests, Tui Sutherland's
Wings of Fire
features a complex fantasy world where all the protagonists are dragons. This appeals to a wide range of kids, not just Warriors fans. The series is at eight titles and counting and has also branched out into a secondary series,
Wings of Fire: Legends
. Sutherland also has a more traditional fantasy series,
The Menagerie
which features magical creatures but humans are the main protagonists. (as an interesting sidenote, Sutherland is one of the Erin Hunter writers)
Readers who are really voracious and can handle longer and heftier books will enjoy the classic animal adventure series
Redwall
by Brian Jacques. These are shelved in the teen area, due mainly to length not content. They are challenging reads because every animal has a different (British) accent or dialect and they are, to put it mildly, wordy. They feature a wide cast of different animals and their adventures all over their medieval-like fantasy world. They do make awesome audiobooks, for kids who can't handle that difficulty of reading level. They were originally written as radio broadcasts for a school for the blind, which is why they're so heavy on description.
Other titles that may appeal to Warriors fans:
Shark Wars series by E. J. Altbacker (I bill this as Warriors...but with BLOOD)
Poppy and Friends series by Avi (more cozy)
Tygrine Cat by Inbali Iserles (we only have the first title in this series. another interesting note is that Iserles is another Erin Hunter author)
Highway Cats by Janet Lisle
Silverwing by Kenneth Oppel (features bats, but is longer and more YA and not really popular)
Varjak Paw by SF Said
Nurk by Ursula Vernon (more quirky and humorous)