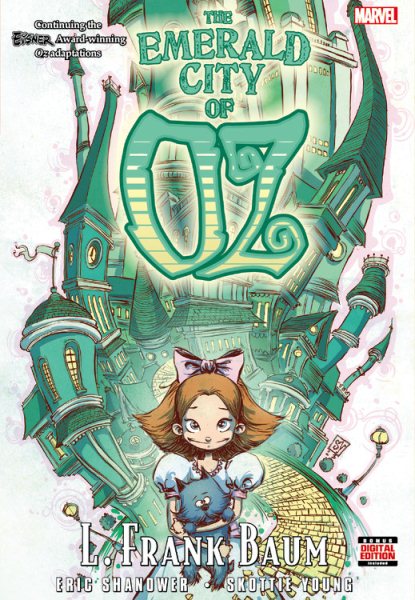 This is the sixth Oz adaptation from Shanower and Young and, to my sorrow, the last. I am sad that we will never get to see the duo take on some of my other favorites, but really I can't complain since they did my all-time favorite,
Ozma of Oz
, complete with the dinner pail and lunch box trees. *sigh of satisfaction*. This book is a good stopping place if they weren't planning to continue through the rest of the famous forty anyways.
This is a much slighter book than the other titles and Baum originally meant it to end the series. Dorothy and her Aunt Em and Uncle Henry are once more in difficulties in Kansas and this time Dorothy makes the decision to stay forever in Oz, since Ozma offers to let Uncle Henry and Aunt Em live there as well. Happily settled in Oz after a few initial contretemps, Ozma suggests the three of them, accompanied by a few trustworthy friends, take a journey through Oz to visit some of the strange places and peoples that not even Dorothy has seen. The little group is soon enjoying themselves thoroughly on several pun-filled adventures, but back in the Emerald City danger is looming - the Nome King and a host of terrible allies are marching on the city! Ozma refuses to fight, but will they find a peaceful solution? Of course they do and the decision is made to render Oz invisible and cut off from the rest of the world so there may be no more attacks. So we say goodbye forever to Dorothy, Ozma, and all their friends.
This tpb is only five issues long, but Shanower and Young pack all the pertinent details and the most delightful elements of the story into even such a small space. We see all the strange creatures who ally with the Nome King as well as the high spots of Dorothy's trip - the Fuddles, Utensia, and my favorite, Bunbury. The text includes the best of the jokes, narration, and dialog without being too dense. Skottie Young, as always, does a gorgeous job translating the odd creatures and places into images and maintaining the continuity of characters from previous books. I really love his interpretation of Ozma, who can sometimes be rather static in the original stories. She has a much wider range of emotions and reactions in the artwork.
Verdict: Even if you don't have a lot of Oz fans, these stories are worth purchasing. I was sadly contemplating the weeding of my library's Oz books when these adaptations revived interest. Not only the graphic adaptations but the original volumes now check out and I'm planning to replace and add to the original books with updated editions. Highly recommended.
ISBN: 9780785183884; Published 2014 by Marvel; Purchased for the library