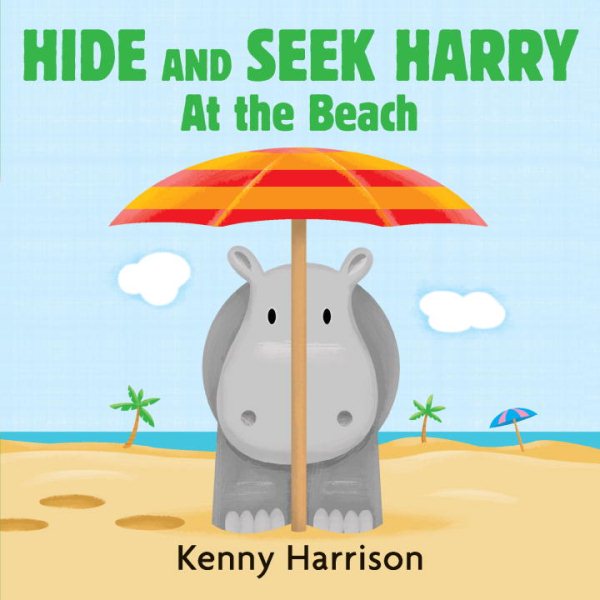 One of the things I'm currently working on this year is bolstering my board book collection. To that end, I've purchased a lot of new board books. I'm very picky about this; so many board books I see are not developmentally appropriate for my board book audience. I really feel that the picture book and board book audience is younger than ever. As more parents get into the idea of reading to their babies and at the same time start pushing easy readers and chapter books on younger and younger kids, picture books have become limited to kids five and under while board books are for the very young toddlers. That's how it's going in my library anyways.
This is a really good example of a board book that's perfect for the young toddler. It's a very simple seek and find story. After a brief introductory sentence, each spread has a question asking where Harry the Hippo is hiding. The art is cheerful and colorful and Harry is hiding just enough to make a toddler look, but not enough that they can't find him. Older preschoolers will enjoy finding smaller details, like the crab that is in many (although not all) of the pictures. The text is bold and dark, drawing the eye to the letters.
This is a nicely designed book as well. It's a nice standard board book size - 7x7 inches - with a sturdy binding and thick pages. The publisher suggests it for ages 2-5, but, as I said earlier, the kids in my library are skewing younger and younger for picture books and board books. This would be fine for looking at with a baby, but 3 and older are unlikely to get much out of it. It's ideal for one to two-year olds though. Kids young enough to still enjoy peek-a-boo will like the open nature of the hide and seek and those a little older will enjoy finding Harry on their own.
Verdict: A perfect choice for a baby or toddler storytime or to enjoy with the average toddler under about age three. Highly recommended.
ISBN: 9780763666033; Published 2014 by Candlewick; Purchased for the library