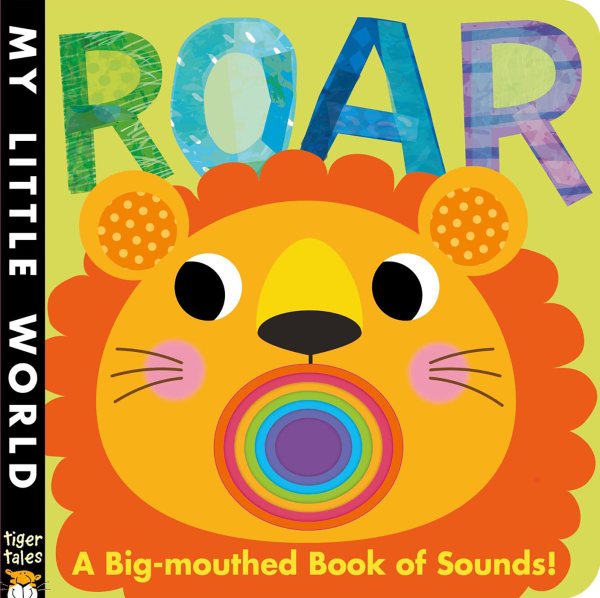 Two books today! These delightful board books are bright, colorful, and appealing to babies and toddlers. They combine a whole slew of different things - concepts, animal sounds, rhyming text, and tactile interest - to make the uses for these books limitless.
In
Roar
, each page features a different animal, a rhyme, and a clue to the next animal. For example, "Frog croaks a worried CROAK! and hops into the air./Which tiny animal has given him a scare?" shows a surprised looking frog on the page facing the text. Follow the direction of his eyes (developing eye movement!) and at the bottom corner under the text you see a curly tail and a bit of cheese. Turn the page and there's a mouse. All the animals' mouths are thick, die-cut holes starting out with the biggest for the lion and ending with the smallest for the frog. The mouse ends the story by yelling into a megaphone and showing that he was the animal all the others were scared of. The font emphasizes the name and sound of each animal and there are vivid colors and shapes incorporated into the book as well as the sounds, holes to trace, and seek-and-find activities.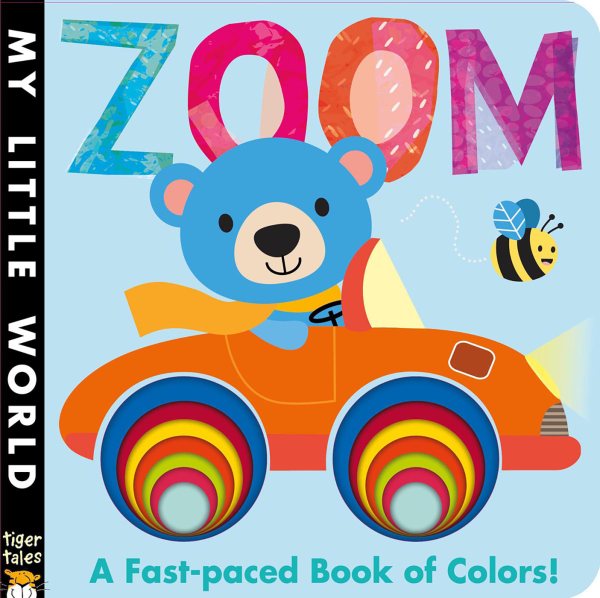 Zoom
has a similar format, but features two die-cut holes, forming the tires of various vehicles being driven by animals. Each rhyme emphasizes an animal and a color and each animal boasts of being the fastest as they whizz by in vehicles with smaller and smaller wheels until turtle finally wins the race in his rainbow car. There are some numbers incorporated into the text as the animals talk about who will be first or second, but not in any organized fashion. Many of the vehicles make some kind of noise as well.
The books are solid, chunky 7.5 squares. The black spine on the back lists the different developmental skills that the book promotes.
Verdict: I think these will be a hit not only in baby storytime but also on our shelves. Highly recommended.
Zoom
ISBN: 9781589255944; Published 2014 by Little Tiger Press/Tiger Tales; Purchased for the library
Roar
ISBN: 9781589255937; Published 2014 by Little Tiger Press/Tiger Tales; Purchased for the library