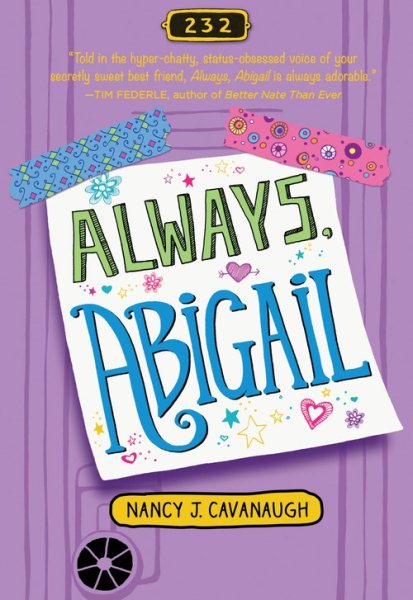 This was one of those books that I breezed through quickly, thought about the appeal to readers (which is definitely there), but several things left a sour taste in my mouth. Also, you may mark this in your journals as one of the rare times I agree with a Kirkus review.
Abigail is excited to start sixth grade. She's got two best friends and they're absolutely sure they're going to be Pom Pom girls. If they don't, their lives will be
over
. But right away, things start going wrong. Abigail isn't in the same homeroom as her friends, who get a dreamy male teacher. She's stuck with Mrs. Hawke, who taught her mom and gives lectures on "kids these days" and is tough
and
is making them write letters to each other. Guess who Abigail got? Flabby Gabby, the biggest loser in school. When she doesn't get onto the Pom Pom squad, her life is officially over. Even getting to read to the kindergarteners for extra credit and the discovery that Gabby is actually kind of fun, can't make up for her disappointment, not to mention she doesn't want her erstwhile friends to see her around a loser - it will finish off any possibility of that friendship. When her dream comes true and she gets on the squad, is it really what she wants?
This is written in lists "five reasons my life will be over if I don't get on the squad", "three reasons Gabby is a loser" kind of thing. It appears to be heavily illustrated, but as I read it in ebook format on my kindle, I didn't see anything but the basic text. It's not exactly a graphic novel, but in the style of Jennifer Holm's
Middle School is Worse Than Meatloaf.
Girls will eat this up. The drama of friendship, the angst and embarrassment of middle school, the quick read aspect, the lists, all of it. I swallowed it down in half an hour and it was a quick, light read.
Ms. Yingling says it's "pitch perfect middle school voice."
But, and it's hard to tell how much of this is reading it as an adult, several things really bugged me. Abigail's family feels remarkably absent. They do little things for her, ask her how her day was, but there's no point where they really talk about what's going on. Some families are like that, of course, and presumably her parents think she should be handling herself in middle school, but it didn't seem to fit in well with the family lives of middle class suburbanites that I know.
The format of the book doesn't allow for a lot of character development, and Abigail is
supposed
to be a shallow, self-centered girl "a follower" as Gabby says, but to me she and the other characters were just too black and white. Sure, middle schoolers are self-centered, but even Abigail's epiphany at the end is about what she wants and likes to do and how guilty she feels about how mean she's been. Maybe this is me as an adult, wanting to say "you know, it's NOT all about you" to the kids but still...it bugged me. Gabby is so good she's unbelievable. She's a type of character that particularly bugs me; the ethnic character there to show how tolerant and broad-minded the main character is, the impoverished girl with the awful life to teach gratitude to the middle class, suburban girl. I cannot believe Gabby's goodness. Even when she finally loses her temper, it's only to deliver a very adult lecture to Abigail and walk away. All the Pom Pom squad girls, including Abigail's friends, are super nasty and irredeemable; the only thing she can ultimately do is walk away. The adults are totally oblivious to the nastiness and I can believe that about the subtle things, but not about everything they do. I also don't believe social services would allow Gabby to be in the custody of her brother, who can't be more than 18 at the most and a high school dropout, no matter what his motives are.
I'm also skeptical about the school. Now, I have, admittedly, limited experience with schools. But I can't see a teacher who's been in the game for over twenty years ignoring Abigail tackling and knocking over Gabby, accepting their lame excuses, or, and most importantly, being so blind to the girls' friendship drama. Choosing to ignore it and let them work it out on their own, sure, oblivious to it, no. I also don't see her being allowed to still be teaching after twenty years with such an eccentric curriculum. Do they have no tests, no state standards to meet? It sounds like no sixth grade language arts class I've heard about from teachers or students.
Abigail's innocence and naivety (in addition to her complete self-centeredness) was possibly the most realistic thing about her; she has no idea what her more sophisticated friends are getting at with their nasty comments about her friendship with Gabby, and she's thrilled that the eighth grade boy would invite her to a party and appear to be interested in her to the point of maybe even kissing her (omg please, please, please let there be chaperones at that party). As an adult, that whole thread of the plot just made me want to scream at the parents to at least try to teach their daughter some basic safety rules and how to deal with attention from an older boy.
Verdict: This is supposed to be a light, fun read and I can't grudge the kids that - I read plenty of fluff myself. But there are so many other books that will meet kids' desire for friendship angst and middle school drama, I find it hard to choose to spend my budget on this one with such stereotyped characters. So, it would definitely be popular. Girls will gobble it down. I do have lots of similar fluff series like Cupcake Diaries. But I'd rather spend my budget on books with similar appeal but a little more substance. I'd recommend Michele Hurwitz' The Summer I Saved the World, Calli be Gold, Tara Altebrando's The Battle of Darcy Lane, Wendy Mass, Lauren Myracle, Raina Telgemeier, Leslie Margolis, and for books that feature diverse characters (yes, I know Gabby isn't necessarily a minority character, but I'm thinking of her circumstances) as protagonists of their own stories, Confetti Girl by Diana Lopez and The Blossoming Universe of Violet Diamond by Brenda Woods.
ISBN: 9781402293030; Published August by Sourcebooks Jabberwocky; E-ARC provided by publisher via NetGalley.