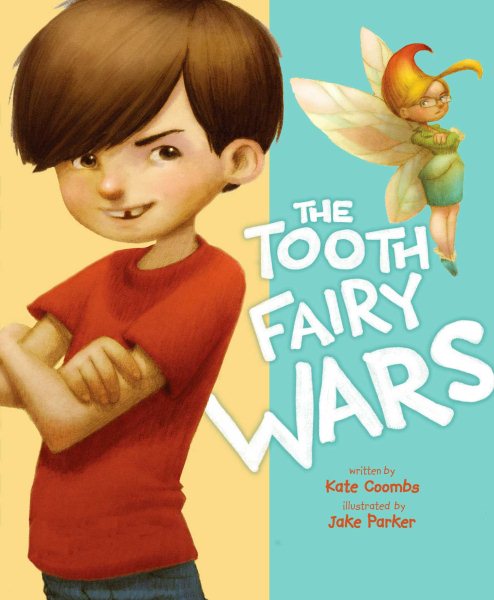 My audience for picture books has gotten younger and younger; very few kids over five check out picture books (or, more to the point, their parents don't allow them to do so. I have become inured to hearing "those are the baby books"). However, a truly funny picture book will really go the mileage - I can talk them up on school visits and will get six year olds and older kids slipping up to my desk and asking (often with some embarrassment) "Do you have that book you showed us at school?" Some of the titles that have really worked for this are Perry's
The Book That Eats People
, Reynolds'
Carnivores
, Morris'
This is a Moose
and Heos'
Mustache Baby
. So I am very pleased to find another book I can add to my super funny category that will grab older kids.
When Nathan loses his first tooth, his mom tells him to put it under his pillow and the tooth fairy will leave him a dollar. Nathan, however, prefers to keep his teeth. The tooth fairy has other ideas. She finds the tooth in the drawer, in the fort, in the garage....acting on his mother's advice, Nathan tries corresponding with the tooth fairy but ends up getting a series of increasingly unhelpful and annoyingly official letters - and she still finds all his teeth! So Nathan decides to set one final trap and wins....or does he?
The colored pencil and digital illustrations have a soft, warm glow of color. They show an adorably gap-toothed and determined small boy, his best friend with dark skin and curly hair, and an array of charming and menacing fairy tale creatures. The little details, like the tooth patches on the fairy tale creatures' uniforms and the tooth fairy's fancy devices really make the story come alive and increase the humor.
Verdict: For all the kids who love hilarious stories about kids beating a grown-up at their own game and who enjoy popular fractured fairy tales, this is the perfect book. It's not so steeped in fairy tale context that kids will miss out on the story, but includes enough little insider jokes that kids will feel in on the joke. It's also genuinely funny, nicely illustrated, and overall a delightful books. Highly recommended, especially for use with school visits.
ISBN: 9781416979159; Published 2014 by Atheneum; Purchased for the library