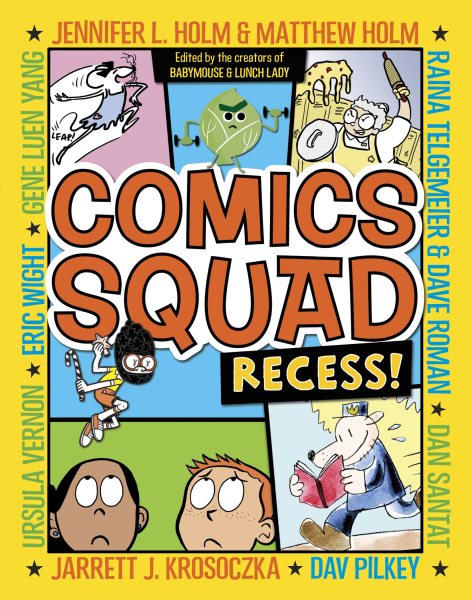 Why did I not know Ursula Vernon had a short in this book? I need this book now, very much. I wasn't quite sure about it when I bought it - primarily because I saw "Raina Telgemeier" and my immediate reaction to her name after this summer has been "click buy button as many times as possible."
So, if you were wondering, like me, exactly what this was....it's a collection of short comics (a couple pages each), in the style of the popular two-tone comics series like Lunch Lady, Babymouse, etc. (all of whom are included). The color of this book is orange and all the artists/authors write very much in their most familiar styles.
"The Super-Secret Ninja Club by Gene Luen Yang" is the one story I would have left out. It's not that it's a bad story - it accurately captures elementary cliques and fads and it's quite funny. But every single other author in this collection is a popular elementary comic artist. Kids who like their stories can go find more. A 9 year old who enjoys this story is not going to move on to American Born Chinese and Yang doesn't really have any stories suitable for younger kids (or not that I'm aware of anyways).
Dav Pilkey offers a short, hand-drawn comic and a hilarious letter of complaint from a teacher about his hero George Beard drawing in class, "Book 'Em, Dog Man". It's even got a little flip-o-rama! Not everyone is into the scribbly comic style, but even the most strait-laced librarian can't disapprove of Dog Man's quest to restore books to the world.
Jarrett Krosoczka puts Lunch Lady on the sick list, letting her assistant Betty be the star for the day, fighting a pizza monster in "Betty and the Perilous Pizza Day."
Ursula Vernon introduces two new characters in "The Magic Acorn" but they've got her deadpan style down pat as the sensible squirrel Scratch gets dragged into yet another crazy (albeit short) adventure with Squeak.
Babymouse sets out on "The Quest for Recess" in a typical Babymouse adventure and reaches her goal...but is it even worth it? Yes, of course, especially when Lunch Lady makes a special guest appearance!
Eric Wight, popular creator of Frankie Pickle (why don't they come out more regularly? WHY?), introduces a whole cast of edible characters along with Jiminy Sprinkles in "Freeze Tag". Vegetables vs. sweets, who will triumph? Especially when peppermint powers come into play!
Dan Santat isn't as immediately familiar to most kids - he doesn't yet have a really popular comics series - but with his new illustrations for Dav Pilkey's Ricky Ricotta he's gaining fans and after reading the gross but heartfelt "300 Words" quite a few kids will go searching for his other works.
Finally, the story my hordes will be devouring, Raina Telgemeier's "The Rainy Day Monitor" introduces kids to the magic of RPGs and transforms Boring Becca into the coolest rainy day monitor ever! (I guess Dave Roman was co-author too, but while I have some Astronaut Academy fans, he's not as HUGE in my library as Telgemeier). Bonus points for a really diverse class of kids.
The stories are interspersed with little games, drawing instructions, mash-ups, etc.
Verdict: The only question about this is, not will you buy it, but how many copies do you need, where will you put it once you've bought it, and do you have complete runs of all the included authors' works, because kids will be clamoring for more! I decided to put this under Holm, since they're the main editors and I think Babymouse is the best-known of the series (Raina Telgemeier has passed her in popularity, but nobody can spell or remember her name, they just ask for her titles). Highly recommended.
ISBN: 9780385370042; Published 2014 by Random House; Purchased for the library