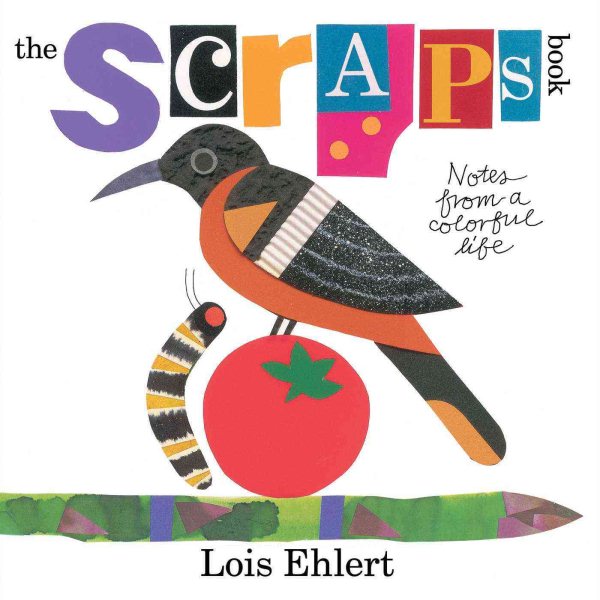 I strongly resisted even looking at this book for a long time. Picture book biographies (or autobiographies) do not circulate well (or at all) at my library. Neither does anything on art unless it's a craft or how to make things type of book. I was wrong. I can admit it. I should have known that Lois Ehlert was not going to lose sight of the interests of her primary audience; young children.
The endpapers are a colorful collage of photographs, found objects, and colors. The collage continues onto the title page and incorporates the title and author. The first page says, in large, bold, Chicka Chicka Boom Boom letters, "Don't read this book" and then in smaller print "unless you love books and art" and lovers of art and books have a feast waiting for them in the following pages.
In simple, honest language, Lois Ehlert talks about her ideas for books, where they came from, and how she created the art. There are sketches and drafts and finished artwork, craft ideas and guidelines on creating your own art, stories from her childhood, and so much more. Although the book is twice the length of the average picture book, it's not hard to see even a very young child being engrossed in the colorful pages and bits and pieces of Lois Ehlert's art and life.
Verdict: This isn't a book you want to plow straight through; rather, it's ideal for dipping into and choosing a few pages to sample. Give it to kids to pore over, read snippets in storytime (I'm planning to feature it at my We Explore Favorite Artists series in the fall) and make sure you shelve it in the picture books where Lois Ehlert fans will discover another book to treasure.
ISBN: 9781442435711; Published 2013 by Beach Lane Books/Simon and Schuster; Borrowed from another library in my consortium; Added to the library's order list