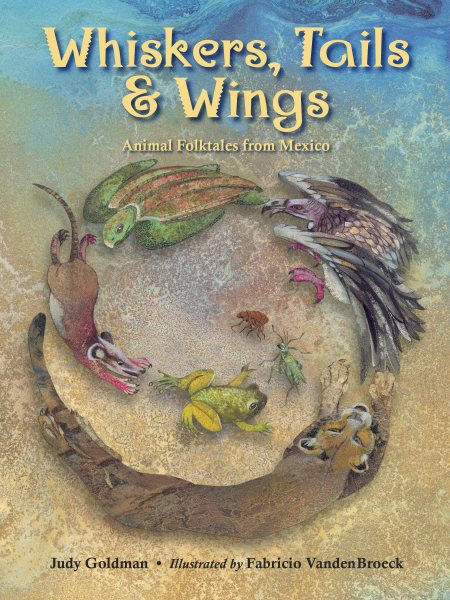 I should really stop checking out folktales, especially collections, since I have completed my reorganization of the Tales neighborhood and vowed to purchase no more fairy tales or folktales for, well, probably a couple years at least. But I just can't resist them.
This is a collection of five animal folktales from Mexico, but it's much, much more than just a folktale collection. It opens with a brief introduction to Mexico, mainly an explanation of its indigenous peoples and its history of folklore. There is also a map, showing where the five stories come from. The first story, "When Senor Grillo met Senor Puma" pits a clever grillo (cricket) against a hot-tempered Puma. The story has a full-page illustration of a puma and a cricket and the story itself is three pages long. It's followed by several pages explaining the culture of the Tarahumara, the indigenous group the folktale comes from, as well as the geography of where they live and how the folktale fits into their lives. The final pages include a glossary for the story and the nonfiction portion.
Each of the folktales follows this pattern. The stories include a Seri tale, "Mosni's Search" a creation myth about a determined turtle, and the following information includes how sea turtles are a part of Seri culture. A Huichol Tale, "Tlacuache's Tail" about the coming of fire, while the cultural information focuses on the significance of opossums and some of the rituals of the Huichol people. The Triqui Tale, "Ouch!" is probably the funniest - it's about how fleas were invented to keep people from being lazy. The following information has a lot of fascinating discussions of the importance of weaving and cloth to the Triqui culture. The last story, "Pokok up high" is a Tseltal tale, and has a familiar ring - it's about a frog who wants to fly, convinces a bird to give him a ride, but it doesn't end so well. The information about the Tseltals covers many different aspects of their culture, from their fiestas to their connection with the land.
There is a brief conclusion celebrating the importance of folktales. Further information for the book includes a detailed bibliography, web resources, multiple sources for each of the tales, and an index.
Verdict: This is an amazing resource. It has to be the best-researched folktale collection I've seen in years, not to mention the stories are retold beautifully, the art is brilliant, and it offers unique stories that are accessible (yes, weird fairy tales are fun, but they're not very easy to circulate). It would be an amazing resource for any kind of cultural of folktale study and a great selection for older kids who like folktales. Unfortunately, I just don't have an audience for it in my library - longer collections like this are almost impossible to circulate and I don't get asked for Mexican folktales at all. I'm happy that it's available in my consortium though!
ISBN: 9781580893725; Published 2013 by Charlesbridge; Borrowed from another library in my consortium