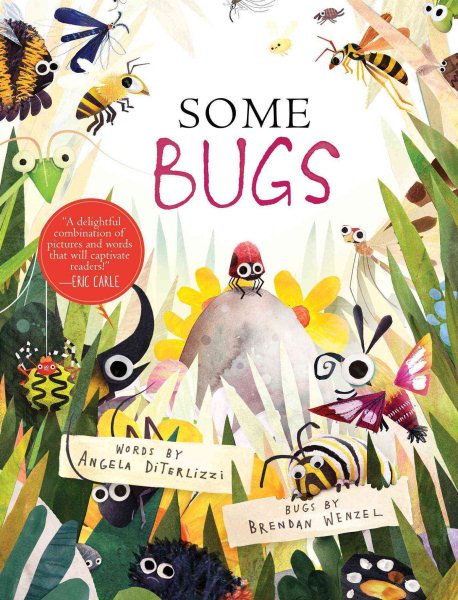 This book is blurbed by Eric Carle. I don't usually look at blurbs, but that's kinda impressive. And, it turns out, well-deserved.
The book is set up in simple rhyming couplets divided into two spreads. The first spread has the opening of the couplet, for example, "Some bugs flutter. Some bugs crawl." Then the second page caps it with a surprise "Some bugs curl up in a ball." The rhyming verb in each phrase is capitalized, similar to what you see on the cover. The text is simple, minimal really, with just five couplets and a final rhyme that incorporates all the verbs.
The art is really different. Just from the cover, I thought it would be slick, bright digital images but once I started looking at the book I started seeing more and more different techniques and, well, as the publisher information says "The illustrations for this book are rendered in almost everything imaginable." There's collage, and scribbly crayon and colored pencil bugs with googly eyes and a soft fuzzy cat that looks like it's drawn with chalk and gorgeously painted flowers and...and...and...you could spend HOURS looking at just one page.
By the time I was halfway through I was holding my breath, thinking "please, please, please have an identification guide at the back" and they DID! Woo!
Verdict: This is the perfect book for bug storytimes with toddlers or preschoolers, for one-on-one reading with the entomologist in your life, for poring over alone to get all the nuances of the art. In short, a lovely, lovely thing. I suggest you buy it instantly for your library.
ISBN: 9781442458802; Published 2014 by Beach Lane/Simon and Schuster; Borrowed from another library in my consortium; Purchased for the library